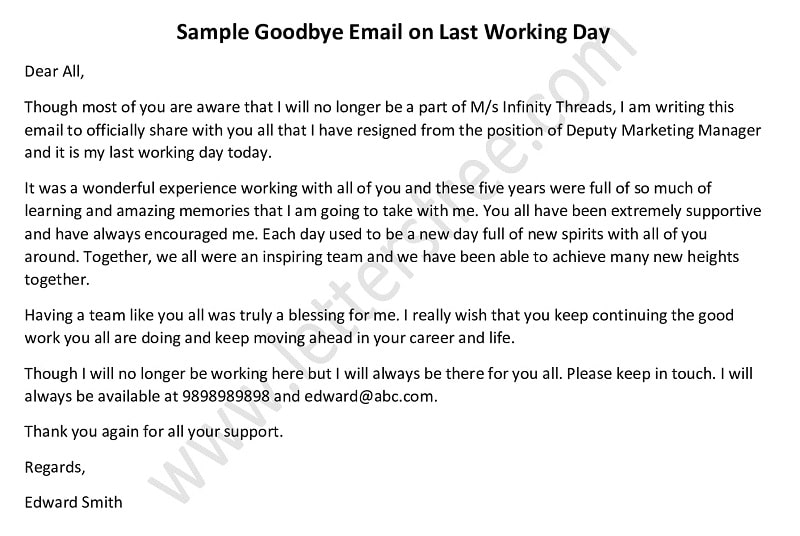 It is not easy to say goodbyes and when you are leaving a job, writing a last working day email is certainly not easy. You are excited about your next job but you also have many memories associated with the last one and therefore writing goodbye letter to colleagues on last working day can be a tough job. To make it easier, you can refer to goodbye email samples and thank you letter to colleagues on last day of work.
In this post, we have come up with sample goodbye mail on last working day along with some important tips that are extremely helpful in drafting a perfect Goodbye Letter and Example farewell email on last working day.
Tips for writing a Goodbye Mail on Last Working Day
We have included some useful tips to write a good farewell mail on you last day at your office. Do follow them while writing your email:
Always keep it short and sweet
Don't forget to address it to the right people
Avoid including anything negative
Always share some good experiences
Don't miss to include your contact details
Sample Goodbye Email on Last Working Day
Dear All,
Though most of you are aware that I will no longer be a part of M/s Infinity Threads, I am writing this email to officially share with you all that I have resigned from the position of Deputy Marketing Manager and it is my last working day today.
It was a wonderful experience working with all of you and these five years were full of so much of learning and amazing memories that I am going to take with me. You all have been extremely supportive and have always encouraged me. Each day used to be a new day full of new spirits with all of you around. Together, we all were an inspiring team and we have been able to achieve many new heights together.
Having a team like you all was truly a blessing for me. I really wish that you keep continuing the good work you all are doing and keep moving ahead in your career and life.
Though I will no longer be working here but I will always be there for you all. Please keep in touch. I will always be available at 9898989898 and [email protected].
Thank you again for all your support.
Regards,
Edward Smith
Given Below are a few goodbye letter samples for a clearer Idea.
Emotional Goodbye Letter to Teacher
Goodbye Letter after Resignation
Funny Goodbye Letter
Goodbye Love Letter
Goodbye Letter to Parents
Goodbye Letter to Clients
Goodbye Letter to Coworkers
Goodbye Letter to Employees
Goodbye Letter to Girlfriend
Goodbye Letter to a Friend
Farewell Party Thank you Letter
Goodbye Letter to Boyfriend
Farewell Letter to Boss
Top Search: