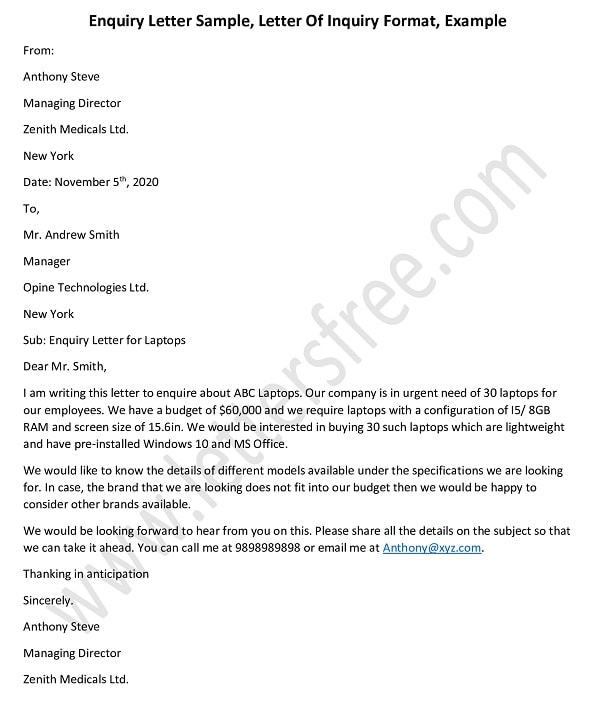 As the name suggests enquiry letters are written with an intention to seek information about something. There are all kinds of enquiry letters which differ on purpose but have the same objective to getting a response from recipient's end that satisfies the enquiry that was raised. There are all kinds of enquiry letter formats available ranging from business inquiry letter sample to job inquiry letter sample
In this post, we have come up with letter of inquiry sample along with Enquiry letter writing tips to help you create your own letter with ease.
How to Write Inquiry Letter – Enquiry Letter Writing Tips
Though there is always an option to follow the enquiry letter sample but you can always keep the letter writing tips in mind to make sure that you are on the right track:
Tone of the letter has to be formal.
Must include the contact details of the sender.
Must contain the essentials of enquiry.
Do not forget to include the subject of the letter.
Including a salutation is equally important.
Keep it precise and short.
Look for grammatical errors and spelling mistakes.
Letter Of Inquiry Format, Example, Sample
From:
Anthony Steve
Managing Director
Zenith Medicals Ltd.
New York
Date: November 5th, 2020
To,
Mr. Andrew Smith
Manager
Opine Technologies Ltd.
New York
Sub: Enquiry Letter for Laptops
Dear Mr. Smith,
I am writing this letter to enquire about ABC Laptops. Our company is in urgent need of 30 laptops for our employees. We have a budget of $60,000 and we require laptops with a configuration of I5/ 8GB RAM and screen size of 15.6in. We would be interested in buying 30 such laptops which are lightweight and have pre-installed Windows 10 and MS Office.
We would like to know the details of different models available under the specifications we are looking for. In case, the brand that we are looking does not fit into our budget then we would be happy to consider other brands available.
We would be looking forward to hear from you on this. Please share all the details on the subject so that we can take it ahead. You can call me at 9898989898 or email me at [email protected].
Thanking in anticipation
Sincerely.
Anthony Steve
Managing Director
Zenith Medicals Ltd.
Top Search: