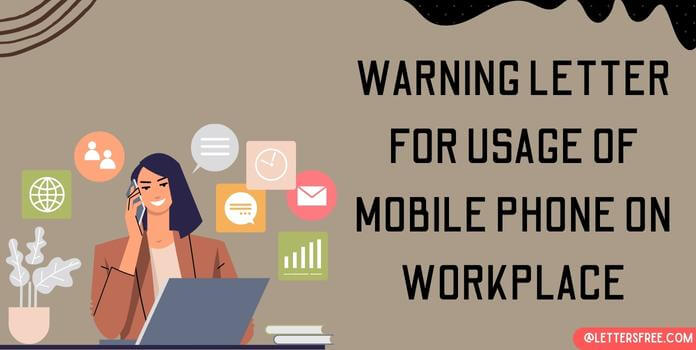 Usage of mobile phone affects the productivity and therefore, sometimes it becomes important to send Warning Letter for Usage Of Mobile Phone On Workplace to those employees whose work and productivity is getting adversely affected because of use of mobile at work. The Warning Letter for Not Using Mobile Phone In Office is a letter that issues warning for mobile usage.
In this post, we bring to you a Warning Letter for Cell Phone Use at Work. Use this Warning Letter to Employee if mobile phones not allowed in office or if mobile phone usage is restricted. This Warning Letter sample will guide you to create your own letter. Follow this Warning Letter Format in order to write a letter all by yourself.
Sample Warning Letter For Mobile Phone Use at Workplace
From:
Richard Smith
HR Manager
Zenith Technologies
New York
Date: August 20, 2023
To,
Mr. Bill Brown
54, Henry Street
New York
Sub: Warning letter for Usage of Mobile Phone at Office
Dear Mr. Bill,
There have been quite a few times when you have verbally warned about usage of mobile phones in the office corridors during the working hours and talking loudly because of which the other staff members are getting disturbed while working but despite all the warnings, you have failed to adhere to it.
Please consider this letter as a final warning and if you are found talking loudly on the mobile phone anywhere in the office premises then the management will be compelled to take a strict action against you. At Zenith Technologies, we are very strict about maintaining a good working environment and talking loudly over phone is just not appreciated.
Sincerely,
Richard Smith
HR Manager
Zenith Technologies
New York