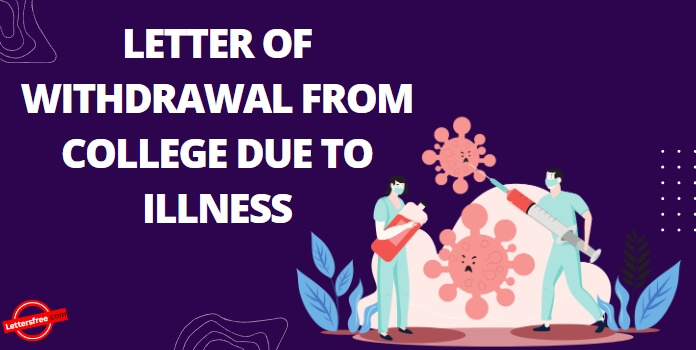 If you have fallen ill and because of that you are not in a condition to join the college in which you have taken admission then you must write a formal Letter of withdrawal from college due to illness to the management informing about your condition and your withdrawal.
We have come up with a Withdrawal Letter Format that has been drafted keeping in mind this particular situation. You can use this medical withdrawal from college letter sample for creating a customized letter that helps you with the guidance you need.
Format for Letter of Withdrawal from College Because of Illness
From:
Anthony Black
54, Richmond Apartments
New York
Date: May 20, 2023
To,
Mr. Mathew Smith
Principal
College of Commerce
New York
Sub: Regarding withdraw from college
Respected Mr. Smith,
The purpose of writing this letter is to inform you that I, Anthony Black, will have to withdraw from your college because of my medical condition.
I had met with an accident on April 4th, 2023 in which I had suffered some serious injuries. Though I am a lot better but I still have some issue in my back as the D3 disc in my backbone because of which I cannot sit for long and need to take bed rest. Moreover, there are two major surgeries that I have been prescribed by the doctors which will be conducted in this year itself and in such a situation, it will not be possible for me to attend the college.
I was really looking forward to start with the college but I need to focus on my health for now and therefore, I am compelled to withdraw from your college. I have attached with the mail the withdrawal forms as well as my medical records for your reference. As the college is supposed to start in the month of July as per the college's policy, I am eligible for the complete refund of my fees as I am informing you about my inability to start the college before a month.
I am sure that you are going to consider my request for the withdrawal and will have the refund processed as quick as possible. For any information, please feel free to get in touch with me at 6598659865.
Thank you for your time and consideration.
Sincerely,
Anthony Black