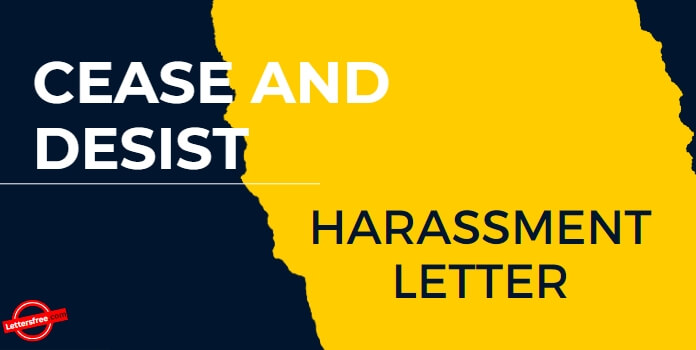 The purpose of a Cease and Desist harassment letter is to highlight the act of harassment and asking an individual from refraining from doing it in future along with threatening of the legal action if the individual fails to comply. It is always a better idea to use the Cease and Desist Harassment letter example to know how one should go about it.
In this post, we have come up with a sample Harassment Cease and Desist letter which you can use for drafting your own letter that rightly fits your situation. Use this free Harassment Cease and Desist letter template to write a formal and effective letter.
Format for Cease and Desist Harassment Letter
From
Samantha Brown
54, Richmond Apartments
New York
Date: May 25th, 2023
To,
The Manager
Zenith Technologies
New York
Sub: Cease and Desist contact of 123456.
Dear Sir/ Madam,
I, Samantha Brown, am writing this letter to formally request that you cease and desist contacting me. I would also like to warn you that I will be compelled to file a complaint against your company with the State Attorney General's office, New York and will press civil as well as criminal charges against your company if you are not going to comply.
As per the Fair Debt Collection Practices Act Session 123 (B), I have the right to request you to stop contacting me in relation with my debt.
Once you have received this notice, according to the law, you are only allowed to contact me in the given circumstances only:
To inform me about the specific actions the company has decided to take against the debtors and creditors.
To inform me that any efforts on behalf of your company for contacting me are not approved or are terminated.
I would again like to request you to kindly cease and desist from contacting me as soon as you receive this letter.
Regards,
Samantha Brown